Matrixflame Candles
Featuring an incredible lifelike flame effect created by 76 micro-LEDs, each Matrixflame pillar is equipped with a fully programmable flickering flame visible from every angle. These state-of-the-art candles run 250 hours per set of D batteries and are remote capable as well as timer ready. Each candle is coated in 100% paraffin wax with a beautiful, natural finish.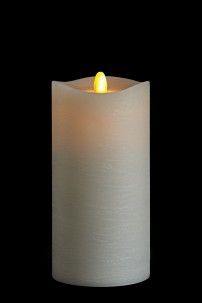 3.5 X 7 MATRIX PILLAR CANDLE, IVORY, FROSTED FINISH, UNSCENTED, TIMER, REMOTE READY ..
MATCHLESS REMOTE CONTROL /10 BUTTONS ..